I have been wanting to post about this for a while, since that fateful night before Halloween. I know, I know. That was a billion years ago. But better late than never, right?
About an hour before the event, I was invited to a party the night before Halloween. In that time I had to shower, put on makeup, and figure out my Halloween costume. To read about my Halloween weekend and see pictures of makeup and other fun stuff, click
here
. Anyways, it wasn't until after I left my apartment that I realized there was a nasty taste in my mouth, a bit like cheap lip products. I quickly realized that it must be my lipgloss, because I have never gotten this taste in my mouth when I have worn this lipgloss before. I must say, I was super sad about my lipgloss going bad, because it was Rimmel's Vinyl Gloss in East End Snob, and they discontinued those glosses. Rimmel may have a similar product out, but for that I am not certain about. I loved the strawberry scent of the gloss (when it was still usable) and how the opaque warm frosty pink color looked on my lips. Honestly, if it weren't for the taste, I would probably continue using it even if I knew it had gone bad because I love it that much. When I arrived home later that night, I dug through my lipglosses to see if any others had gone bad. I was absolutely devastated to find some of my favorite Smashbox glosses no longer smelled delicious, and therefore must be too old to use. Had to toss 4 of my favorite glosses that night. It was hard to say goodbye.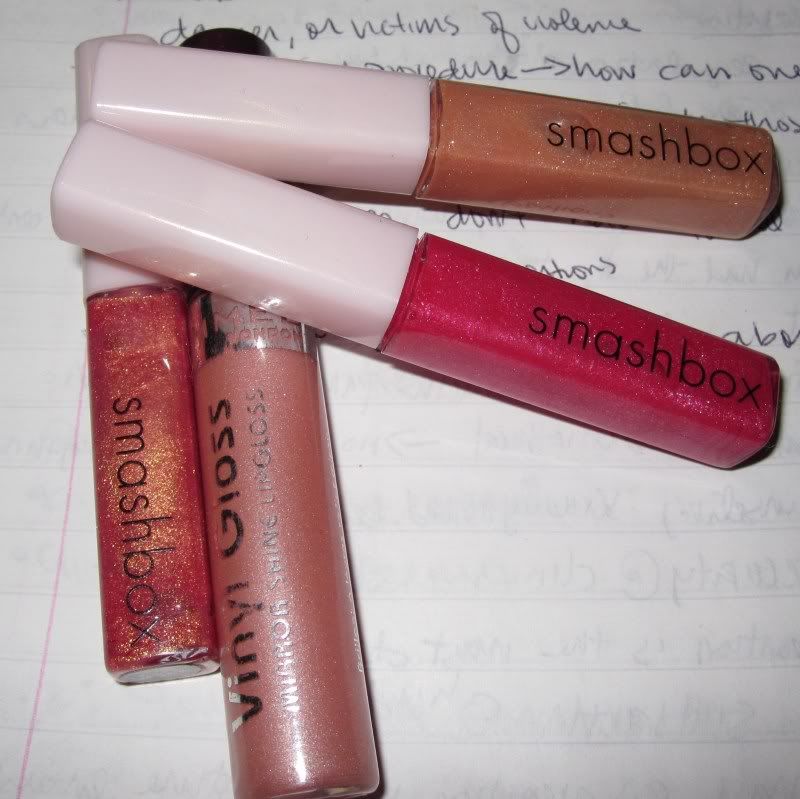 I am aware of that there general expiration dates for all cosmetics, and lipglosses are supposed to die within about 9 months, but after having spent all that money on makeup, I hate to throw things away unless I really truly have to. I guess this is motivation to wear makeup more often. Nowadays, I don't wear makeup to school because it's too time consuming, and I'd rather do a good job than to halfass it only to look like a fool. I wonder if that is the same as being comfortable to walk out in my own skin. Probably not. Ramblings aside, does anyone else feel like this? Hoarding makeup as long as possible?